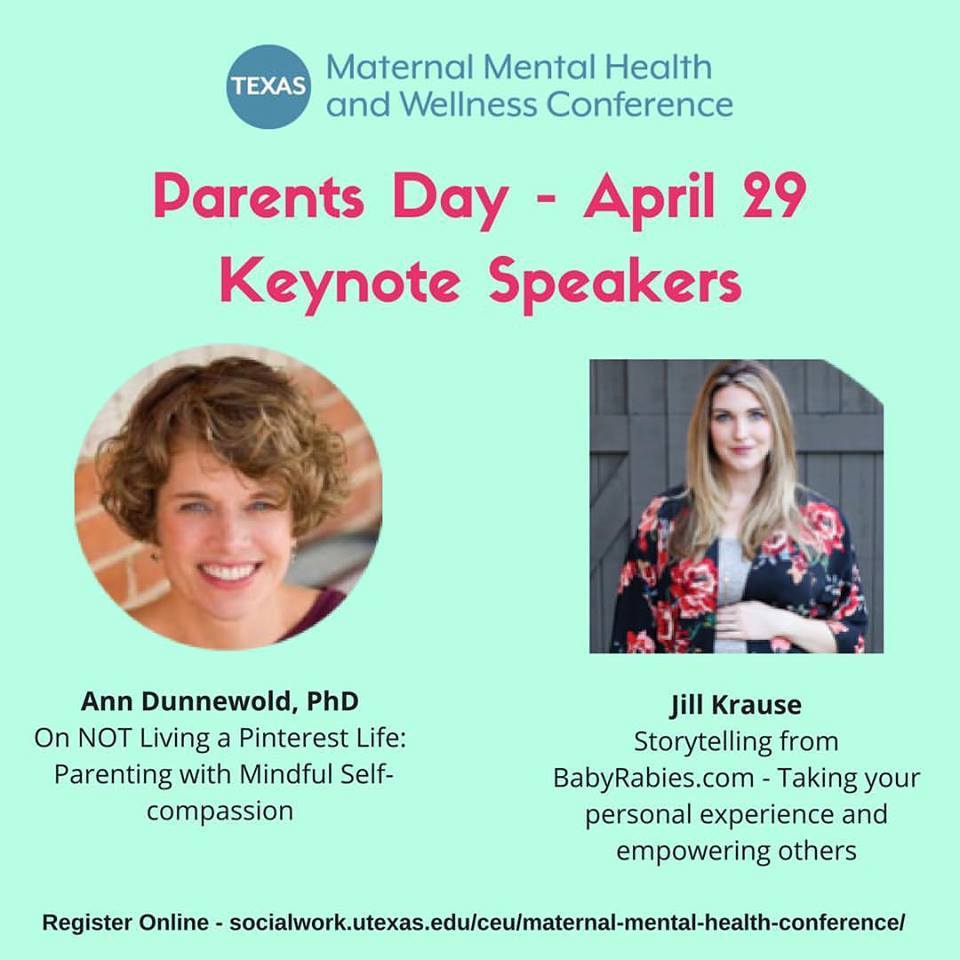 April 2017: Texas' First Maternal Mental Health Conference

Education for Pregnancy Professionals, Parents and the Community
This week, April 27-29, The University of Texas at Austin School of Social Work and Pregnancy and Postpartum Health Alliance of Texas (PPHA), will offer a multi-disciplinary learning opportunity for professionals who provide services to women and their families during pregnancy and after childbirth.
The conference is the first of its kind in the state of Texas and seeks to enhance learning and communications among mental health and community-based providers, birthing professionals, nurses and physicians.
Conference sessions will include:
Understanding postpartum mood and anxiety disorders
The postpartum couple
Early infant crying and coping
Postpartum sleep management
Practical tools for parents during your postpartum recovery
Self care and mother's intuition
Postpartum depression policy in Texas
The last day of the conference is Parents' Day (April 29)
The last day of the conference is open to the public and will include a full day of learning and self-care opportunities for parents and interested community members to help women and families better understand maternal mental health issues.
Babies are welcome. There will be a comfortable feeding/changing room for all your needs. 

When/Where:
Parents' Day (OPEN TO ALL)
Saturday, 4/29/17
830a-2p
JJ Pickle Campus: 10000 Burnet Road, Austin, TX 78759 (across from the Domain)
Exhibitors:
Parents' Day Keynote Speakers:
Jill Krause
Jill started the blog Baby Rabies in 2007 when her baby fever got serious and became baby rabies. She experienced postpartum anxiety after the birth of each of her children, and has leveraged her platform to spread awareness of perinatal mood and anxiety disorders. Krause has been recognized by Time, Vogue, Buzzfeed, and Babble for her authentic voice and online influence, and was awarded Personal Blog Of The Year by the Iris Awards in 2016.
Ann Dunnewold, PhD
Ann Dunnewold is a licensed psychologist, mom and author. She has more than 25 years of experience helping clients cope with life issues. Her most recent solo title is Even June Cleaver Would Forget the Juice Box, which introduces the new paradigm of the perfectly good mother, as opposed to those who overproduce, overprotect and over-perfect.
Tickets:
Cost: $25
Registration: Online registration has closed; tickets available at the door
Please RSVP at the Facebook event page
Tickets include lunch, parking, access to all Saturday sessions, exhibitor giveaways
Austin Expecting is Austin's most exhaustive prenatal, birth and postpartum resource directory. Find all your pregnancy care and service providers in our comprehensive directory. Stay up to date with all the goings on for expectant moms with our events calendar. Connect with Austin moms and providers by following our blog. The advice and opinions on this website are for informational purposes only. Do not use this information against the advice of your medical practitioner. Always consult your doctor or practitioner for any health-related issues you may be experiencing.