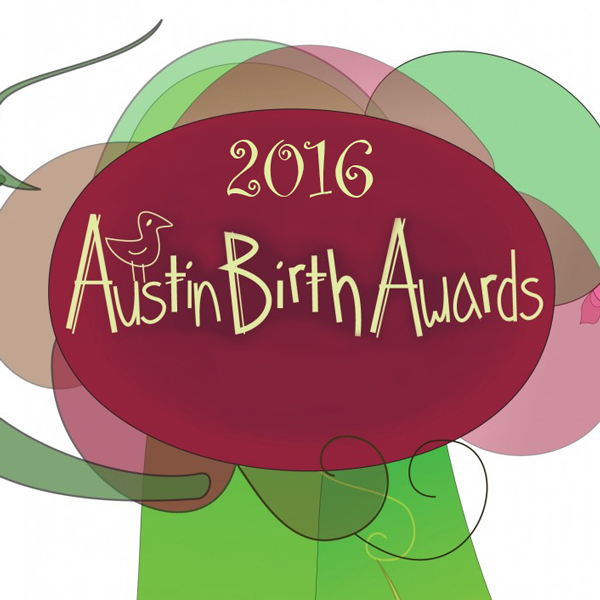 2016 Austin Birth Awards Winners Announced
The 2016 Austin Birth Awards, hosted and organized by Central Texas Breastfeeding Coalition and benefitting the local non-profit Pregnancy and Postpartum Health Alliance of Texas, were announced at the awards ceremony at George Washington Carver Museum and Cultural Center on October 14. The Birth Awards are a community effort to raise awareness for evidence-based birth and breastfeeding practices.
Debuted in 2012, 2016 marks the first year the Austin Birth Awards have taken place since 2013. This year, in its third year running, there were more than 625 nominations submitted and over 3,000 votes cast.
Write-in nominations in 25 categories were open to the public August 1-15, with the top four nominees in each category becoming finalists on the ballot for the official voting period open to the public September 5-19, 2016.
In our very first year, we are so completely overjoyed that Austin Expecting was nominated as a finalist for a 2016 Austin Birth Award in the 'Best Parenting Resource' category! Our hearts are full, and we are incredibly thankful to the community for welcoming us with such enthusiasm since our launch on Mother's Day just a few short months ago!
Congratulations to all the winners and nominees, many of whom, we are so thrilled to call friends and partners. We are proud to be part of such an incredibly diverse community of pregnancy and birth professionals in Austin.
And the 2016 winners are…
Midwife/Midwifery Practice:
AUSTIN AREA BIRTHING CENTER
FINALISTS:
Nurture OBGYN
Natural Beginnings Birth Center/OBGYN North
Tandem Midwifery
OGBYN Practice:
OBGYN NORTH/NATURAL BEGINNINGS BIRTH CENTER
FINALISTS:
Austin Area OBGYN
Nurture OBGYN
Vitae Clinic/Dr. Kalamarides
Pediatrician/Pediatric Practice:
TREEHOUSE PEDIATRICS
FINALISTS:
Schoolhouse Pediatrics/Dr. Reidy
Barton Creek Pediatrics/Dr. Wheelock
Grow Pediatrics
Naturopath:
AMY TYLER, ND
FINALISTS:
Inner Sun Chiropractic/Romy Sanders
Family Chiropractor:
LOTUS CHIROPRACTIC & ACUPUNCTURE
FINALISTS:
Blessed Family Chiropractic
Hoffman Family Wellness/Myra Hoffman
Inner Sun Chiropractic
Thrive Chiropractic Center/Cory Ellerbroek
Lactation Consultant/IBCLC Practice:
MILK MAVEN
FINALISTS:
The Mama Mantra/Breanna Duncan
Breastfeeding Success Company
My Pure Delivery
Acupuncturist/Acupuncture Practice:
SAGE ACUPUNCTURE
FINALISTS:
Lotus Chiropractic & Acupuncture
Earthspring Acupuncture
Light Family Acupuncture/Melissa Light
PK Acupuncture
Birth Doula/Doula Practice:
ATX DOULAS
FINALISTS:
Austin Born
Christine Mesich
Shelley Scotka
Postpartum Doula/Doula Practice:
ATX DOULAS
FINALISTS:
Austin Born
Dream Baby Austin
Craniosacral Therapist:
SALLY LEISSNER
FINALISTS:
GB Khalsa
Maria Scotchell
Massage/Movement Therapist:
BELLY LOVE MASSAGE/HANNAH FORD
FINALISTS:
Woman Craft/Colleen Mikeska
The Living Well/Lacreshia Laningham
Sally Leissner
Herbalist:
TEXAS MEDICINALS/GINGER WEBB
FINALISTS:
The Barefoot Dragonfly/Amy Kreydin
Greenstar Herbs
Beauty Blossom Birth/Stacy Wooster
Placenta Encapsulation Service:
HILL COUNTRY PLACENTAS
FINALISTS:
Mama Peace
Placenta Chi
Woman Craft
Breastfeeding Class:
AUSTIN AREA BIRTHING CENTER
FINALISTS:
ATX Doulas
Austin Baby Guru
Austin Born
Birth Prep Class:
AUSTIN AREA BIRTHING CENTER
FINALISTS:
Austin Born
Hypnobirthing of Central Texas
Vitae Clinic/St. John Paul II Life Center/Christine Mesich
Hospital to Deliver (Baby-friendly & Mother-friendly Practices):
ST. DAVID'S NORTH AUSTIN MEDICAL CENTER
FINALISTS:
Seton Medical Center Austin
St. David's Medical Center
St. David's South Austin Medical Center
Birth Center:
AUSTIN AREA BIRTHING CENTER
FINALISTS:
Birthwise Birth Center
Central Texas Birth Center
Natural Beginnings Birth Center/OGBYN North
Prenatal/Postpartum Fitness Provider:
YOGA YOGA
FINALISTS:
Austin Area Birth Center Yoga/DeLora Fredrickson
Fit4Mom Sunset Valley
Tribe Austin
Maternity/Baby Retail Store:
BABYEARTH
FINALISTS:
Enlightened Baby
Special Addition
Consignment/Resale Store:
ONCE UPON A CHILD
FINALISTS:
Just Between Friends Williamson County
Kid to Kid
Pumpkin Patch
Sparkle Kids
Birth/Baby Photographer:
LEILANI ROGERS PHOTOGRAPHY
FINALISTS:
Kimberly del Angel
Little Dreamers
Sabrena Rexing Photography
Mom/Baby Group:
AUSTIN BORN
FINALISTS:
ATX Doulas
South Austin Breastfeeding Group/Donna Cordoba
Tribe Austin
Resource for Special Needs Babies:
ANY BABY CAN
FINALISTS:
Hand to Hold
Sammy's House
Parenting Resource:
FREE FUN IN AUSTIN
FINALISTS:
Austin Expecting
Austin Moms Blog
To Due Baby Planning
Postpartum Depression/Family Counseling Resource:
PREGNANCY & POSTPARTUM HEALTH ALLIANCE OF TEXAS
FINALISTS:
Kelli Foulkrod
Kelly Boyd
For more information, check out the official Austin Birth Awards website.
Austin Expecting is Austin's most exhaustive prenatal, birth and postpartum resource directory. Find all your pregnancy care and service providers in our comprehensive directory. Stay up to date with all the goings on for expectant moms with our events calendar. Connect with Austin moms and providers by following our blog. The advice and opinions on this website are for informational purposes only. Do not use this information against the advice of your medical practitioner. Always consult your doctor or practitioner for any health-related issues you may be experiencing.