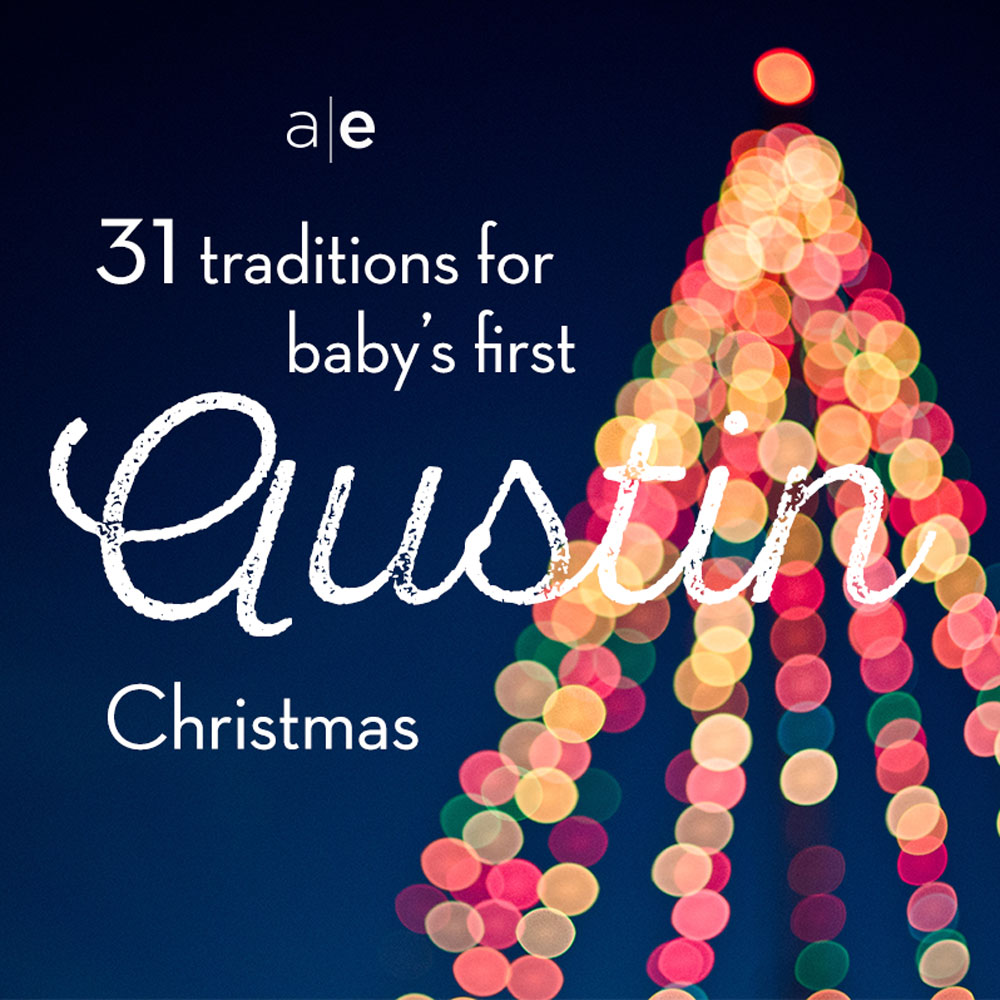 31 Traditions for Baby's First Austin Christmas
Don't let the Christmas season pass you by before you even know it's time to start decorating. Here are 31 traditions — one for every day of December — to start on baby's first Christmas. Take what you like and leave the rest, or try them all to see what sticks. Obviously, your new little bundle won't be able to appreciate these things the first year, but as they grow, family traditions will make up the Christmas memories that they cherish for the rest of their lives…so make 'em good!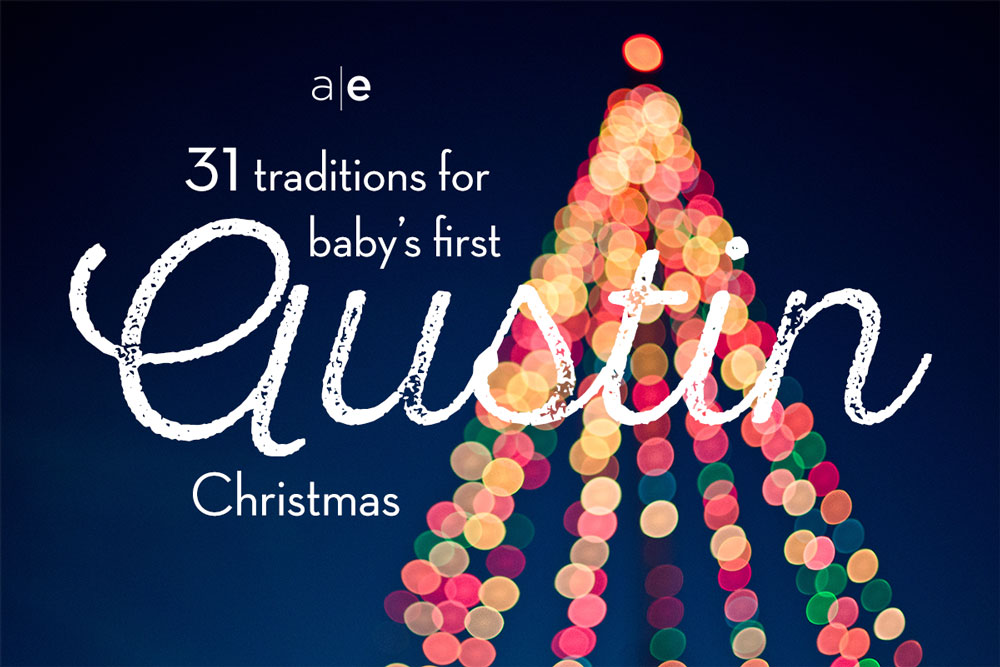 Start with something easy on the first day of December… Get everyone into the holiday spirit by simmering some cinnamon sticks on the stove top to make the entire house smell like Christmas for hours…mmmmm!
Head out to an Austin-area Christmas tree farm — Elgin is a good place to start with Evergreen Farms and Elgin Christmas Tree Farm — to search for the perfect tree, cut it down yourself, drag it home, and enjoy some hot apple cider along the way.
Put up the tree! Do it early, so everyone can enjoy it for more than a week before Christmas
String up the lights, inside and out
Enjoy the annual Holiday Sing-Along & Downtown Stroll
It's never too early to let the little ones fall in love with those Christmas classics…check your local listings for Rudolph the Red-Nosed Reindeer, Frosty the Snowman, A Charlie Brown Christmas, and last but not least, Dr. Seuss' How the Grinch Stole Christmas
Bake some old-fashioned candy — Fudge and Divinity are two of our absolute favorites. Pack them into holiday tins or mason jars and share them with friends, family, neighbors and colleagues
Volunteer your time with a local charity or church to spread some Christmas cheer. It's never too early to teach the little ones the importance of giving back
Since Fall foliage hits late in central Texas, December may be the perfect time to plan a Fall foliage trip depending on when exactly those leaves finally began to change
Grab a freshly-made wreath at your neighborhood Christmas tree lot, and hang it on the front door so you get that cozy Christmas feeling from the scent of fresh evergreen every time you come home.
The holiday season is a great reason to plan a family portrait session — and maybe the only chance to get a cozy family portrait bundled up in layers of knit and flannel and boots and scarves!
Write out Christmas cards. That's right! Grab a pen, and write them out. Indulge in a little nostalgia and send actual mail — but don't just send a photo, add a handwritten note to make it extra special to open.
Set up the nativity scene
Add candy canes to the tree — real ones. Get 'em up there early, so anyone can snag one right off the tree whenever they're in the mood for a light festive treat.
Snap a photo with Santa — if you're really on your game, you might catch Santa for a photo op at one of Austin's murals.
When (if, fingers crossed) the temperature drops, break out the old crock pot or dutch oven and make your favorite hearty comfort meals; turkey chili, pot roast, soup, finally!
Get down to Zilker for Austin's famous Trail of Lights, obviously. You can even go to the Zilker tree lighting if you're hardcore.
Gather everybody around the kitchen table to decorate homemade sugar cookies

Pile into the car and take a drive around the neighborhood to check out the Christmas lights around town
Hot cocoa with extra marshmallows for the whole family
Pull out the old, cherished recipes from your grandmother, and work on fulfilling your promise to some day bake it just like your grandmother
Save the date for Ballet Austin's The Nutcracker at The Long Center
A Christmas Carol at Zach Theatre
Take a day trip to Fredericksburg for some good old fashioned German-inspired Christmas fun (it's only 80 miles)
Start the obligatory holiday move line-up: Die Hard (it's a Christmas movie, trust us), Love Actually, A Christmas Story, The Holiday, The Family Stone, Planes, Trains and Automobiles (we know it's a Thanksgiving movie, but just go with it!), and the old standby Home Alone (the original is all you need)
Egg nog, if you're into that
When the first cold front blows through, fire up the fireplace and enjoy it (because that may just be the only chance you get, it could be pool weather next week)
Hang the stockings with glee including a brand new addition for your family's new addition!
Get a Christmas poinsettia for the house
Make homemade rice pudding, top with cinnamon, enjoy hot
Midnight mass on Christmas Eve
Austin Expecting is Austin's most exhaustive prenatal, birth and postpartum resource directory. Find all your pregnancy care and service providers in our comprehensive directory. Stay up to date with all the goings on for expectant moms with our events calendar. Connect with Austin moms and providers by following our blog. The advice and opinions on this website are for informational purposes only. Do not use this information against the advice of your medical practitioner. Always consult your doctor or practitioner for any health-related issues you may be experiencing.